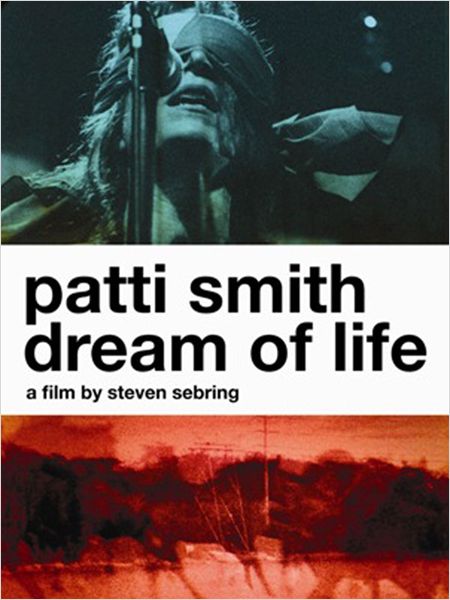 Long métrage - Etats-Unis - 2008 - 1h49
Sorti le le 02 avril 2008
Distributeur : Why Not Productions



voir la bande annonce


le site du film


voir le film en VOD

LISTE ARTISTIQUE
Le groupe
Patti Smith
Voix et clarinette
Lenny Kaye
Guitare
Oliver Ray
Guitare
Tony Shanahan
Basse et voix
Jay Dee Daugherty
Batterie
Et
Jackson Smith
Jesse Smith
Tom Verlaine
Sam Shepard
Philip Glass
Benjamin Smoke
Flea
LISTE TECHNIQUE
| | |
| --- | --- |
| Réalisateur | Steven Sebring |
| Producteurs | Steven Sebring |
| | Margaret Smilow |
| | Scott Vogel |
| Image | Phillip Hunt |
| | Steven Sebring |
| Montage | Angelo Corrao |
| | Lin Polito |
| Son | Margaret Crimmins |
| | Greg Smith |
| Mixage | Tony Volante |

PATTI SMITH - DREAM OF LIFE
de Steven Sebring

Festivals, récompenses

Prix du Meilleur Documentaire au Festival de Durban 2008
Prix de la Meilleure Photographie (Documentaire) au Festival de Sundance 2008
Nomination aux Emmy Awards 2010

Synopsis

Le film nous révèle la personnalité complexe et charismatique de la "marraine du punk" qui s'est imposée dans les années 70 grâce à son style poétique et à ses textes enragés. Entre interviews, concerts, peinture et photographies, Dream of Life explore onze années de la vie de l'artiste. Pour cette icône du rock, qui commente le film en voix-off, l'existence peut se définir comme une redoutable contradiction.


A propos du film
Louer ou acheter le film en VOD